Locations » Taksim Square / Istiklal Avenue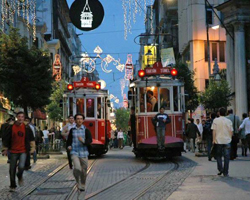 Taksim Square / Istiklal Avenue
Taksim Square (Turkish:Taksim Meydanı) situated in the European part of Istanbul, is a major shopping, tourist and leisure district famed for its restaurants, shops and hotels. It is considered the heart of modern Istanbul, with the central station of the Istanbul Metro network.


Taksim is a main transportation hub and a popular destination for both tourists and the native population of Istanbul.İstiklal Caddesi, a long pedestrian shopping street, ends at this square, and a nostalgic tram runs from the square along the avenue, ending near the Tunel(1875) which is the world's second-oldest subway line after London's Underground(1863). Surrounding Taksim Square are numerous travel agencies, hotels, restaurants, and historical places.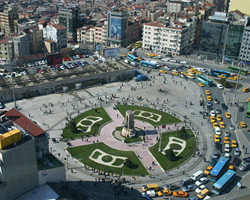 Istiklal Avenue or Istiklal Street (Turkish:İstiklâl Caddesi) is one of the most famous avenues in Istanbul, visited by nearly 3 million people in a single day over the course of weekends. Located in the historic Beyoglu district, it is an elegant pedestrian street, approximately three kilometers long, which houses boutiques,book stores,art galleries,cinemas,theaters,libraries,cafés,pubs with live music, historical patisseries, chocolateries and restaurants.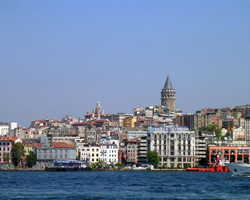 The avenue is surrounded by late Ottoman era buildings, mostly from the 19th and early 20th centuries styles; as well as a few Art Decostyle buildings from the early years of the Turkish Republic, and a number of more recent examples of modern architecture; starts from the medieval Genoese neighbourhood around Galata Tower and ultimately leads up to Taksim Square.