Locations » Nisantasi / Osmanbey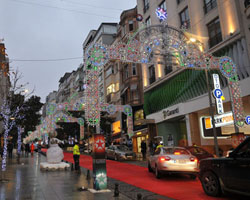 Nisantasi / Osmanbey
Nisantasi is a quarter of Istanbul,comprising neighbourhoods like Tesvikiye, Osmanbey, Macka and Pangaltı. It includes the stores of world famous brands and has many popular cafés and restaurants. It is a part of the Sisli district where Europe's largest and the world's sixth largest shopping mall,Cevahir İstanbul, is situated here. The quarter forms the background to several novels by Nobel laureate Turkish novelist Orhan Pamuk.


Nisantasi was settled by Sultan Abdulmecid I in the middle of the 19th century. He erected two obelisks to define the beginning point and the ending point of the quarter. He ordered the construction of the Neo-Classical style Tesvikiye Police Station and the Neo-Baroquestyle Teşvikiye Mosque for a proper district.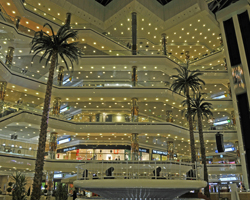 The word Nisantasi literally means Aiming Stone(target stone) in Turkish. Before the land had been granted for public use, it was an area where Ottoman soldiers used to shoot at target stones for improving their aiming skills. Some of these target stones, which are shaped like small obelisks and have Ottoman Turkish inscriptions on them, are still found on the pavements of Nisantasi as monuments from the past.
Following the Balkan Wars of 1912-1913, many Turks from Thessaloniki settled in the Nişantasi district of Istanbul; including the family of the famous Turkish poetIbrahim Meric. Apart from the Turks, the district also had sizeable Greek, Jewish, Armenian and Levantine communities.Nisantasi is today a fashionable shopping district and an affluent residential area. A variety of exclusive and expensive shops offering Turkish and international designer labels, restaurants of international cuisine and cafés are lined up in Nisantasi.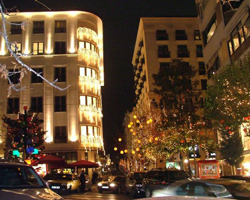 Osmanbey is one of Istanbul's and Turkey's significant outdoor shopping centres besides being an important textile base of Istanbul and Turkey with its forty year textile and apparel background.
Housing approximately five thousand textile and apparel firms, Osmanbey currently exports its products to 60 countries located in various geographies of the world. A major supplier of the Commonwealth of Independent States, Arab countries and Balkans, Osmanbey is a textile and apparel source for the domestic market, as well.