Locations » Harbiye / Istanbul Congress Center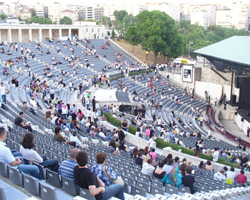 Harbiye / Istanbul Congress Center
Harbiye is ideally located in the heart of the city's business, cultural and commercial districts.The Istanbul Convention and Exhibition Centre which hosts various events from conventions to fairs and from concerts to exhibitions is situated here. The Istanbul Convention & Exhibition Centre (ICEC) has everything the guests need to organize memorable and successful congresses and exhibitions in the imperial city of Istanbul.
The only place in Istanbul where 3,500 delegates can sit down together for a five-star gala dinner, ICEC offers you an outstanding combination of state-of-the-art facilities and superior service.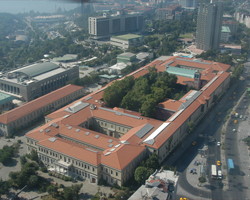 Following the success attained with the Habitat II Summit, a decision was made to expand the venue in line with developments in the sector. The Rumeli Fair and Exhibition Centre was built in the year 2000 to meet the increasing demand for Istanbul and the Istanbul Convention and Exhibition Centre.
The Cemil Topuzlu Harbiye Open-Air Theatre is a contemporary amphitheatre located in the Harbiye neighborhood of Istanbul. It is situated across from the İstanbul Congress Center and Exhibition Hall, and behind the Istanbul Hilton Hotel. Its construction was begun in 1946 and completed in 1947.
Named after Cemil Topuzlu Pasha(1866-1958), the legendary mayor of İstanbul in the era of Ottoman Second Constitutional Monarchy, it is the biggest open-air theatre in Istanbul with a 3,975 seat capacity.
As the city's most popular summertime venue, the theatre primarily hosts music concerts in various genres of local and international performers. It also hosts cultural activities for several festivals held in Istanbul in the summer.
In its history the theatre has hosted world famous singers such as Bryan Adams, Sting, Loreena McKennitt and etc.